LIFESAVER Systems C2
The LIFESAVER C2 can hold up to 750-liters of water at one time and was designed for a large-scale community water provision.
Ideal for:
Schools

Hospitals

Humanitarian/refugee camps
Other community spaces
Each kit:
Will deliver 2 million liters of safe and sterile drinking water
The water from this tank can be used for drinking, washing, cooking, and cleaning

LIFESAVER C2 produces:

Up to 12-liters of clean water per minute.
The LIFESAVER C2 has:
A bespoke aluminum stand that has been designed to exceed UK Health and Safety and Working from Height Regulation Inspection Standards


A step package that can be purchased to support the LIFESAVER C2. Allowing it to be used on a variety of surfaces
The LIFESAVER C2 is the only water filtration technology to remove up to 99.9999% of microbiological waterborne pathogens without the need for any added chemicals or power or UV light
Removed microbiological waterborne pathogens:
Bacteria

Viruses

Cysts

Parasites

Fungi

Interested in purchasing LIFESAVER Systems products? You can shop here or give us a call at (585) 267-7775 with any questions.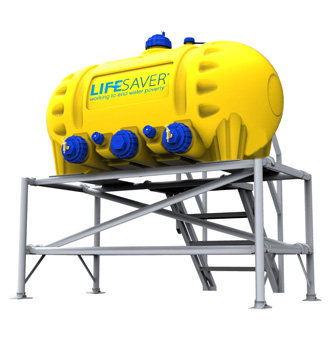 ---
There are no products to list in this category.